2017 Sale Bull Highlights
Raven 2017 bull sale e-catalogue
SALE SUMMARY
Top $9000 (twice)
Ave $5840
HOMOZYGOUS black bulls were hotly contested at Raven Limousin and Lim-Flex bull sale on Thursday last week, topping at $9000 twice.
These 12 bulls averaged $6687.50- nearly $850 above the sale average of $5840. Stud principals Penny and Jason Schulz made a decision to relocate the annual sale to their Field property after three successful sales at Naracoorte. They also switched to a video auction rather than building a sale ring.It paid off with the largest crowds, since their inaugural sale, with 29 registered bidders from SA, Vic and NSW.In a much higher clearance than 2016, 13 of 15 purebred Limousins averaged $6154 while 13 of 14 Lim-Flex averaged $5385.Bids were free flowing for the majority of the high quality, paddock prepared bulls with high ranking Breedplan figures, largely in the top 10-20 pc of the breed.
Lot 21, Raven Legal L121 which was elevated in the catalogue after Lot 6 was the first to make $9000. The 20 month old son of Runl Xtra-Loyal 644X was in the top 10pc of the breed for calving ease and attracted the attention of two NSW studs Woodlock Limousins, Butterwick and Toebelle Limousins, Paterson.Reichstein Pastoral, Field snapped up Lot 12, Raven Lager L45, also at $9000. The 844 kilogram bull by home bred sire Harvard H254 was a curve bender featuring in the top 10pc for birth weight and all growth traits. It was one of three bulls Reichstein Pastoral bought for a $7667 average for their vealer operation. Another highly rated bull with tremendous volume was Lot 5, Raven Lunch Cut L93. Alkeringa Partnership, Meningie paid $8000 for the 20 month old. Four bulls went to Kangaroo Island including two to L&MA Bruce.
Mr Schulz said enlisting videographer Ben Hooper from Clear Vision Imaging, Dubbo, NSW had enabled them to promote their sale bulls to a much wider audience. It was noticeable buyers had done their homework prior to the sale with more than 100 unique views on top lots and some even bidding over the phone."We have spent time educating our clients on the data and DNA testing and these were the bulls which buyers selected," Mr Schulz said."Our first sale back at home and using a new video selling platform had risks but the outcome was very good," he said."Most people got the bulls they were after for a realistic figure which is a good thing."Mr Schulz said next year's offering may also include some females.
Elders auctioneer Tony Wetherall said the young couple's passion and dedication to the stud's breeding program was evident in the "very good line-up of bulls" which were well grown for their age with good muscling.
Catherine Miller Livestock Editor - Stock Journal
2017 highlight sale bulls
LOT 5 - Raven Lunch Cut L93
$8000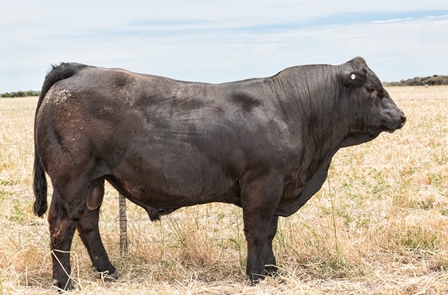 A Homo. Polled bull with tremendous capacity and dimension. Super wide, deep and thick.
Top 10% Gest. Length, 200, 400 & 600day, Carcase Weight and EMA.
LOT 3- RAVEN LOVER BOY PC L456
$7000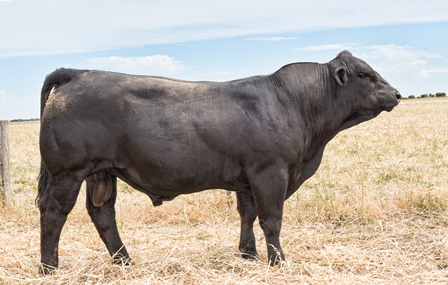 Well balanced, eye appealing Homo. Polled bull who offers performance, length, extention and softness.
Sound footed and free moving like a cat!
LOT 21- RAVEN LEGAL L121
$9000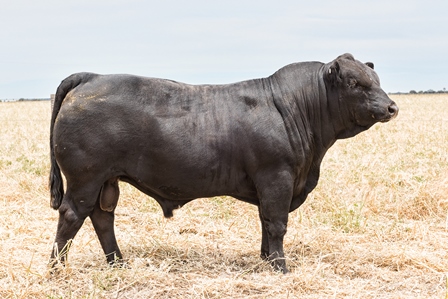 Super soft with tremendous thickness and depth.
Homo. Polled & Homo. Black
Offering Calving Ease, early growth, milk, carcase and docility.
A heifer bull with depth.
LOT 4- RAVEN LEVERAGE L78
$5000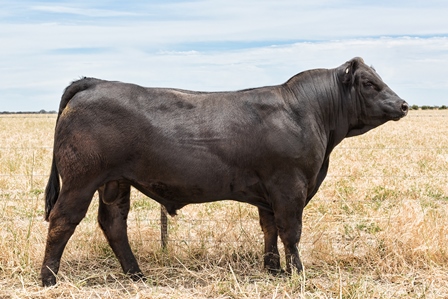 Another eye appealing Homo. Polled WZRK Prime Cut son.
This long bull has a strong phenotype, backed up by growth traits to impress.
LOT 14- RAVEN LEGEND L219
$8000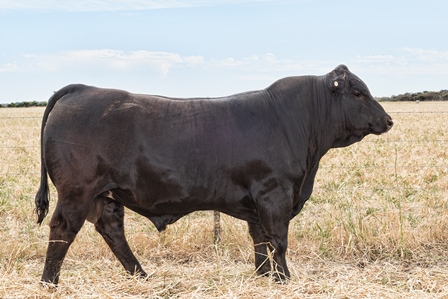 Super wide based giving him added width up top.
A Homo. Polled calving ease bull with grunt.
LOT 16- RAVEN LUCRATIVE L193
$6000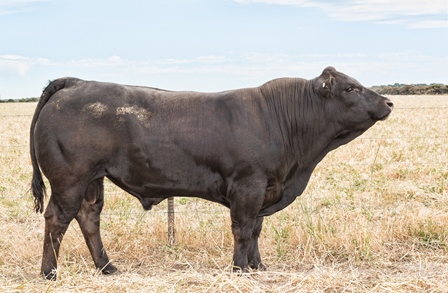 Homo. Polled/Homo. Black with Performance Plus!
Top 5% 400 & 600day growth and all carcase traits.
A heavy muscled, thick, moderate framed bull.